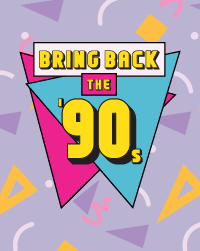 Bring Back the '90s!
When
Runs from Thursday April 20 2023 to Saturday June 3 2023
Approximate running time: 1 hour and 30 minutes
Venue
Event Notes
×
Let's go back to a simpler time of boy bands, lava lamps and mix tapes where your biggest worry was which VHS to rent on a Friday night! I think we can all agree - WE MISS THE '90s! This nostalgic, energy-packed improv show will transport you to the good ol' days of dunkaroos and Bop-Its. So, throw on a neon scrunchie, join our 'live studio audience' and help us create the ultimate '90s Improv Comedy Show!