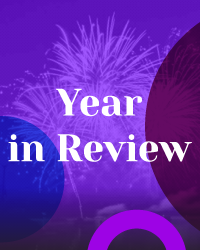 Rescheduled Year in Review!
When
Runs from Thursday January 20 2022 to Saturday January 22 2022
Approximate running time: 1 hour and 30 minutes
Venue
Event Notes
×
Please note that we are only selling to 50% capacity and distancing has been put into place! When you buy a ticket, the surrounding tickets will be put on a hold so no one will be sitting directly next to you. The first row of table seating has four seats available per table and the second row has two seats available per table. Should a front row table not be completely booked, there is a chance that another party may book in at the same table.
As an extra measure of precaution, our bar and lounge will be closed for all shows between Jan 20th-Jan 22nd.
~
Bid farewell to all this doom and gloom as The Improv Centre's 2021 Year in Review takes an improvised look at the year's top stories and adds a much-needed comedic perspective as we prepare for the coming year. While much of 2021 was no laughing matter, our cast will have you crying tears of joy at their in-the-moment reinterpretations of the news that was, and you'll leave the theatre feeling lighter and happier.